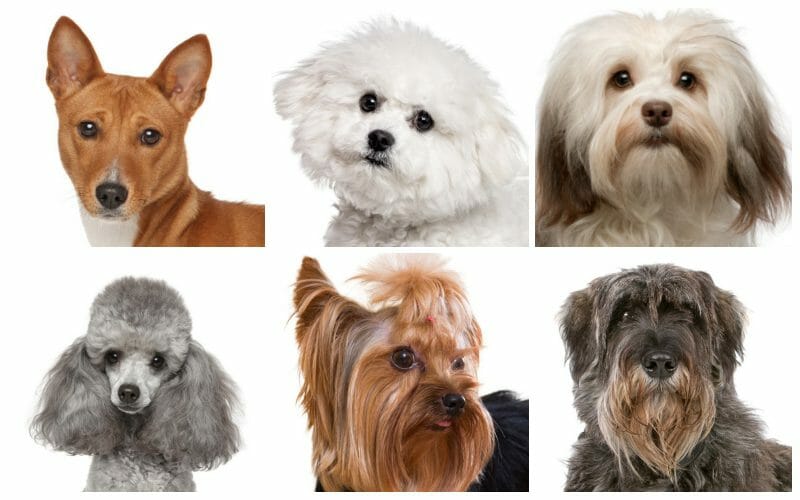 What Does Hypoallergenic Mean?
When a breed is labeled being "hypoallergenic dogs," this essentially means that it is only slightly allergenic. Therefore, hypoallergenic dogs are more unlikely to produce allergies in someone inclined to them. This does not mean hypoallergenic dog breeds are entirely allergy-free.
When it comes to hypoallergenic dogs, the dander they produce is significantly less allergy-causing than that of other dogs. Contrary to what many believe, dog dander does not originate in its coat. This protein-based allergen comes from the dog's urine and saliva. When any of these substances come in contact with the dog's coat, it begins to flake off as it dries. The dander spreads throughout the living space, thus producing allergic reactions in those predisposed to it.
Additionally, dogs that produce less hair tend to shed less. This subsequently produces less dander. Because smaller dogs tend to shed less, many people prefer small hypoallergenic dogs. For this reason, with an average of 10% of people in the country suffering from pet-related allergies, many dog lovers seek out hypoallergenic dog breeds.
List of Hypoallergenic Dogs
Within the United States, there are 16 dog breeds that are considered to be the best hypoallergenic dogs for allergy-sufferers. There are big hypoallergenic dogs (such as Poodles and Giant Schnauzers) and a host of small hypoallergenic dog breeds (such as the Havanese, Yorkshire Terrier, Bichon Frise, and Shih Tzu).
Although none of these breeds are 100% hypoallergenic, many of them shed minimally or not at all, which significantly reduces dander production. For this reason, any of the hypoallergenic dogs listed below would be ideal options for people with pet allergies. However, it is important to understand what makes each of these breeds uniquely lovable to pick the best hypoallergenic dogs for the household.
Affenpinscher
Originating in Germany, the Affenpinscher is a frisky, active little dog that weighs just around 7 to 9 pounds. After being used for centuries as a rodent-chaser, this hypoallergenic dog breed is innately curious, headstrong, and agile.
Potential owners should be aware that this breed requires plenty of intensive exercise as part of its daily requirement. Besides some issues with its eyes and joints (such as patellar luxation), this dog is hardy health-wise.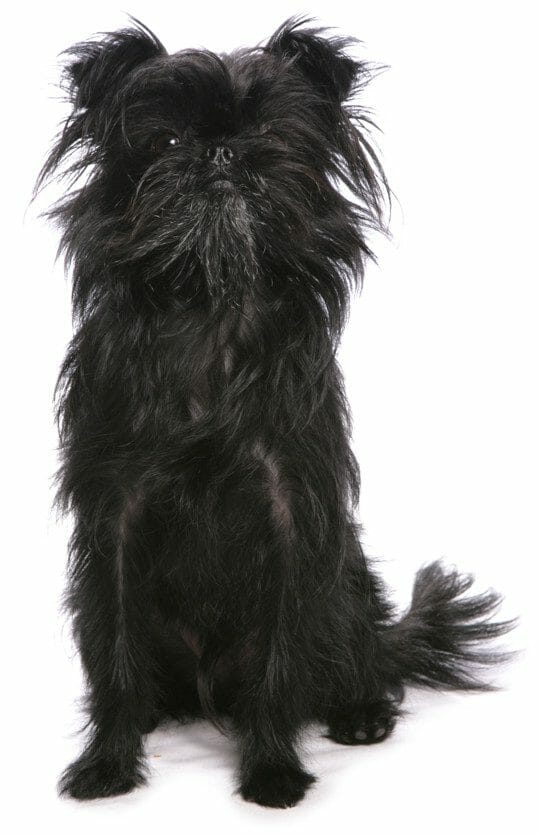 Basenji
The Basenji, which is also known as the Congo Terrier, was developed in Africa. This breed often reveals its roots as a hunter in its reserved, self-reliant personality. Because Basenjis are very active, they often become ill-behaved if not given daily mental and physical stimulation.
This dog can weigh up to 24 pounds and be as tall as 17 inches, making them a medium-sized hypoallergenic dog. Their lifespan ranges from 12 to 14 years if kept in optimal health.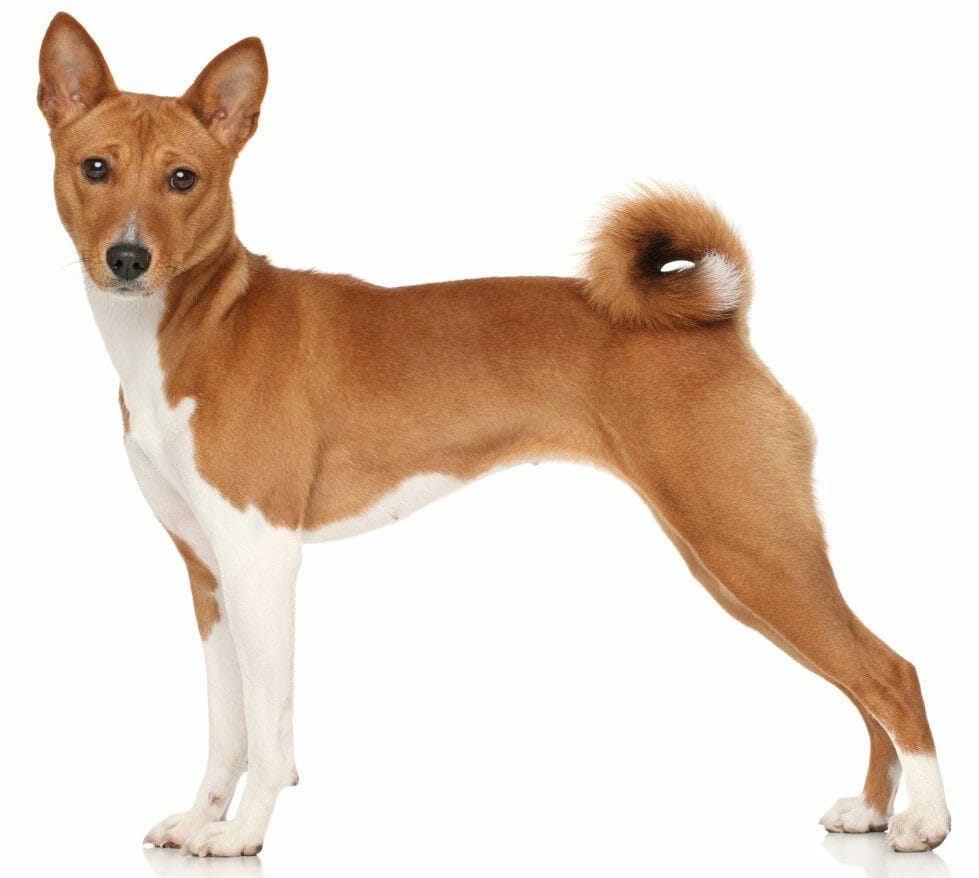 Bedlington Terrier
The term "quiet as a lamb" rings true for the Bedlington Terrier in more than one way. Closely resembling  a lamb in their appearance, this hypoallergenic dog breed possesses a quiet, loving, and dependable nature.
Standing at almost 17 inches tall and weighing up to 23 pounds, this breed is built to run with graceful agility. It is recommended Bedlington Terriers receive monthly grooming by a professional to keep their unique look trim and tidy.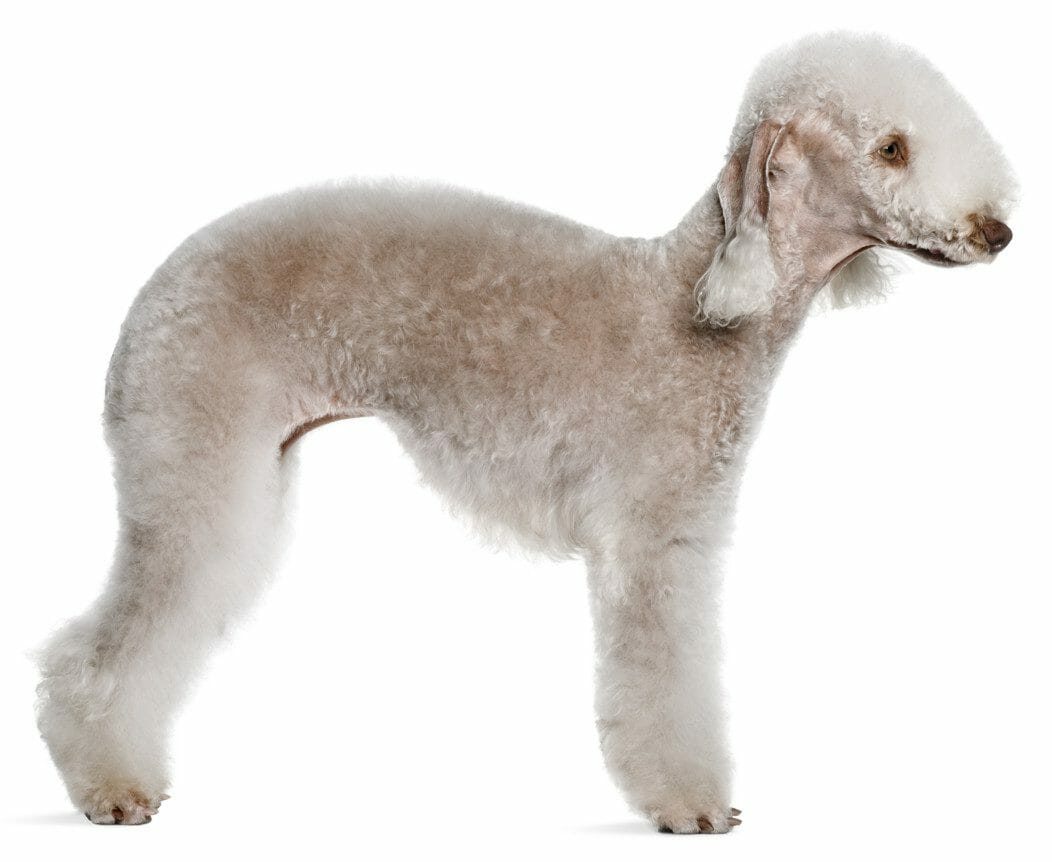 Bichon Frise
The Bichon Frise, which stands between 9 and 12 inches tall, is a small breed that is fun, friendly, and a ball of energy. This breed is known for its snowball-like appearance, given its all-white, round, and puffy coat.
Numbered as one of the most popular hypoallergenic dogs, this breed sheds little to none. It requires monthly professional grooming for upkeep of its unique powder-puff appearance. This little dog, in particular, is known to be a fantastic option for children and families with additional pets.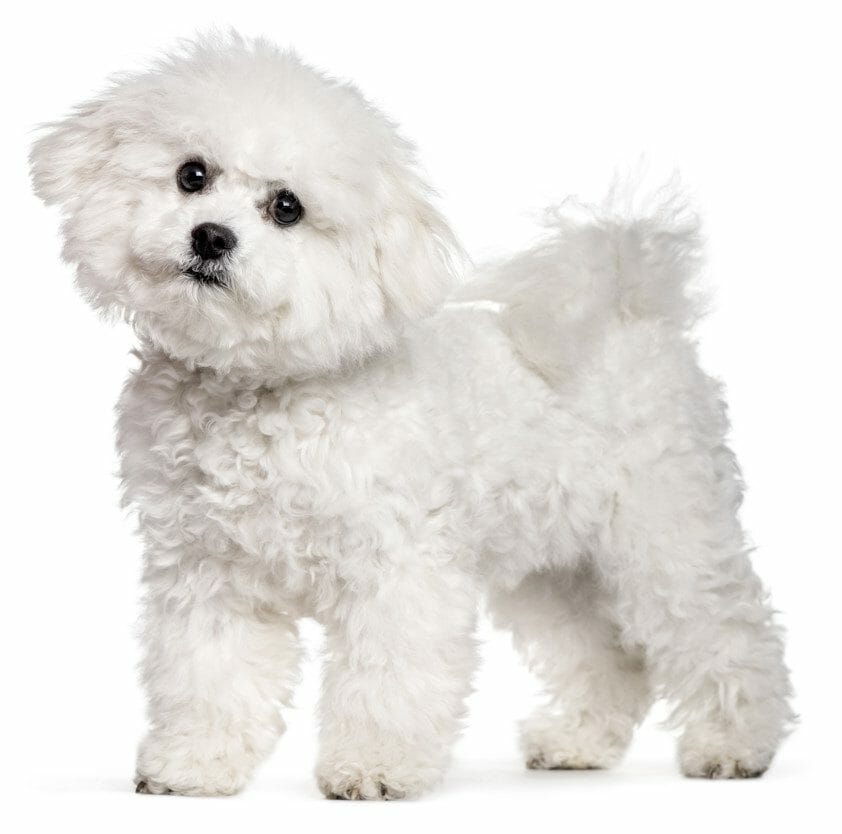 Chinese Crested Dog
The Chinese Crested Dog, having first made its appearance in China in the 13th century, is made up of two types: Hairless and Powderpuff. Both represent differing variations in their hair growth. Overall, however, this hypoallergenic dog breed is mostly hairless with a light, silky down coat.
Chinese Crested dogs, though susceptible to eye issues, have an average lifespan of 13 to 15 years. In terms of grooming, daily brushing is needed. This breed is ideal for a family due to its gentle-hearted nature and loyalty to its family. Also, it should be kept indoors and made to wear a sweater during the colder months due to its hairlessness.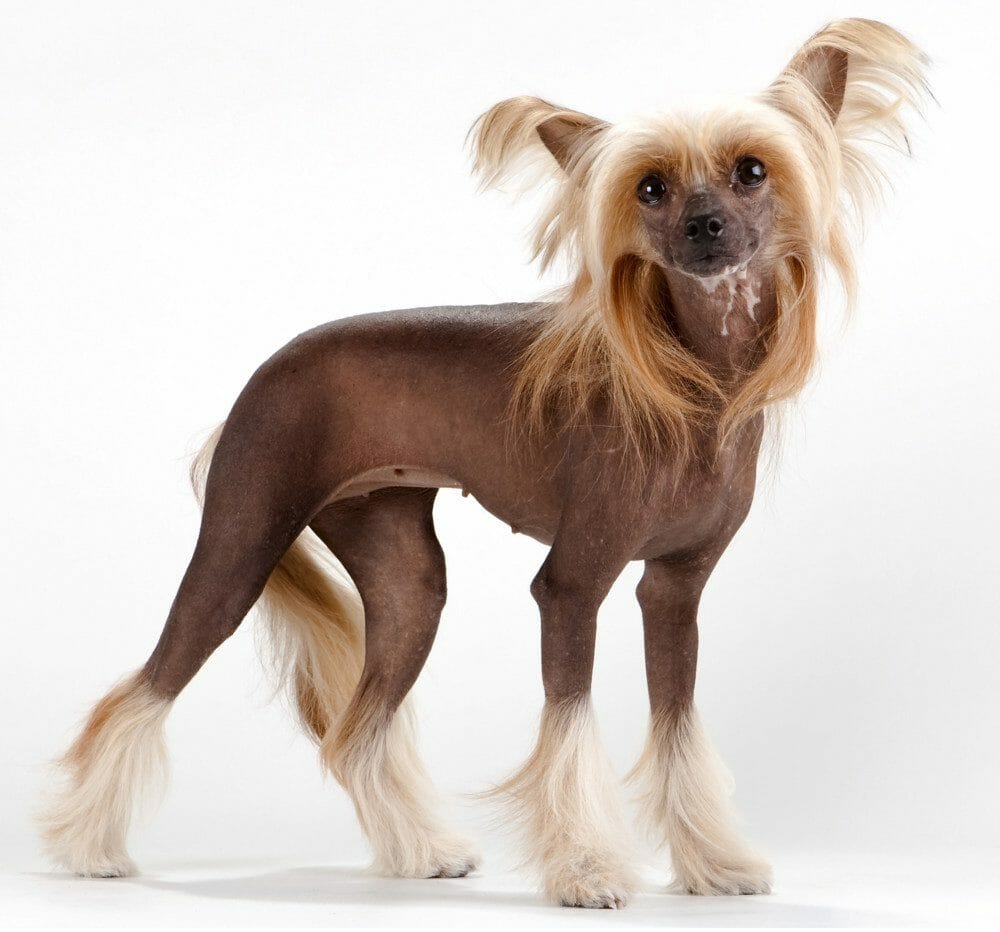 Giant Schnauzer
The Giant Schnauzer is dominating in its appearance as it stands nearly 30 inches tall. In every aspect, this breed emanates strength and resilience. This clever dog can come on quite strong if not trained properly.
Although the Giant Schnauzer is perfect for family life—often exhibiting extreme faithfulness to its family—care should be taken around small children. This hypoallergenic dog can be quite rambunctious and may unintentionally injure small children. Their coarse, bushy hair should be brushed twice or more per week.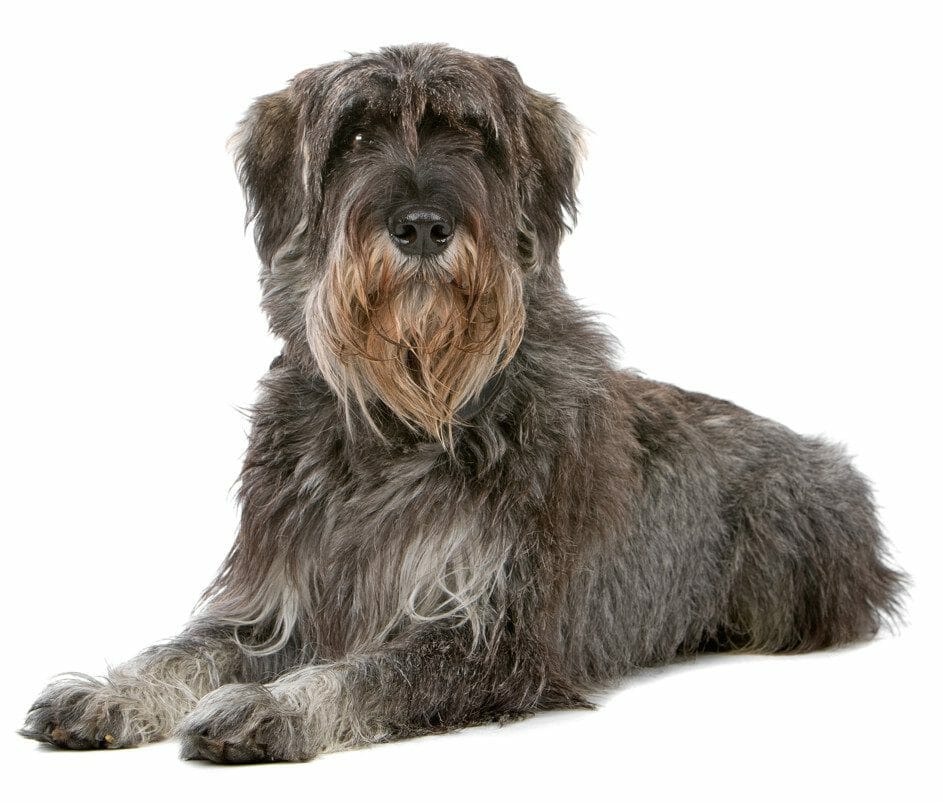 Havanese
Standing approximately 9 to 12 inches tall and weighing up to 13 pounds, this dog is the national dog of Cuba. With a merry and loving disposition, the Havanese is a joyful little pup that gets along with anyone and is bubbling with life.
In spite of its long coat, this hypoallergenic dog does not shed. This furry canine has minimal health issues and can live up to 14 years old.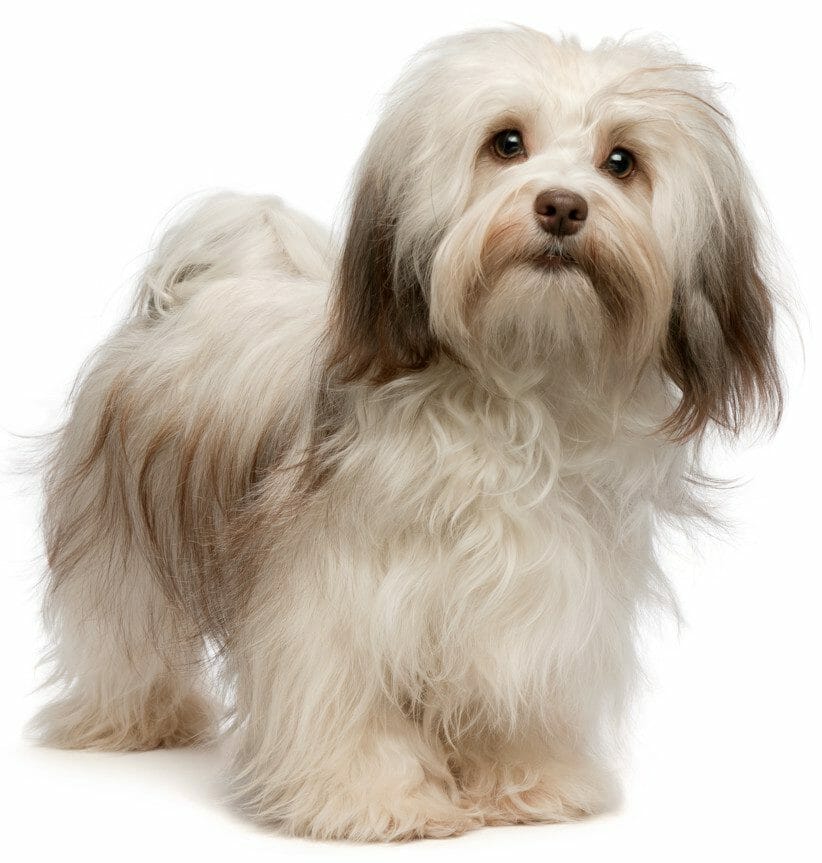 Irish Water Spaniel
Hailing from Ireland, the Irish Water Spaniel is the largest in the spaniel family. Possessing a rather boxy appearance, Irish Water Spaniels have a tight, dense coat full of curls.
Irish Water Spaniels generally weigh between 40 and 65 pounds and can get up to 24 inches tall, which put is on the list of large hypoallergenic dogs. This breed was bred to brave a diverse array of climates as a bird dog, and its athletic personality reflects that. This breed does well with children.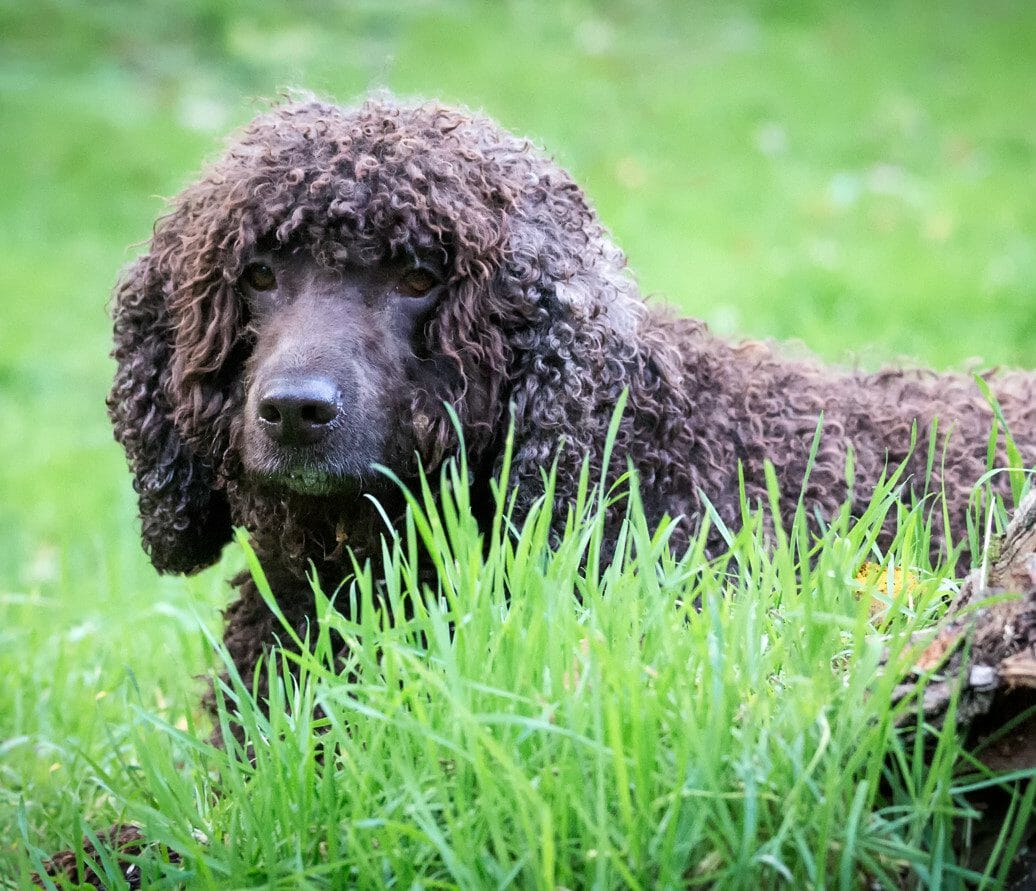 Kerry Blue Terrier
If one word could describe the Kerry Blue Terrier, it would be diverse. This breed thrives in all forms of athleticism—from herding and swimming to even hunting. The Kerry Blue Terrier can do it all.
Although this hypoallergenic breed can be a bit standoffish to strangers, it is a loyal protector of its family and is good-natured overall. Weighing up to 40 pounds and growing to be about 20 inches tall, the Kerry Blue Terrier touts an extremely thick, wavy coat that gives it a fascinating appearance.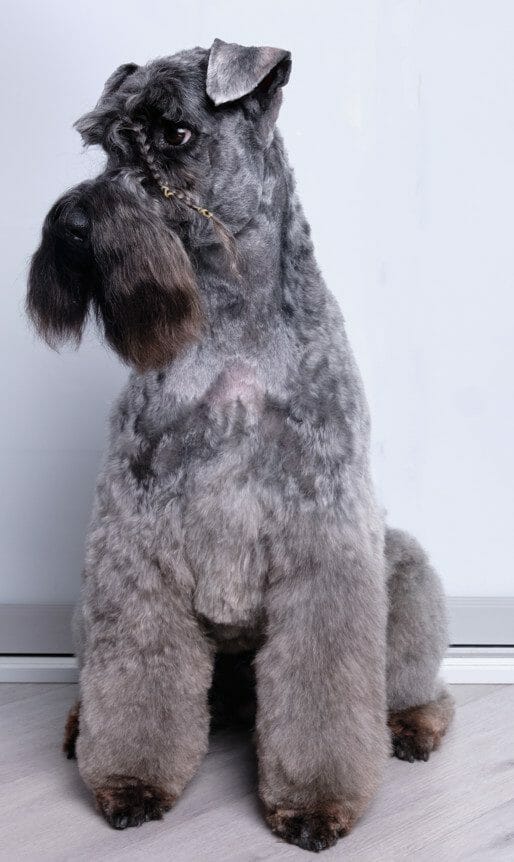 Komondor
A Komondor dog's most noticeable feature is its mop-like appearance. Its outercoat is made up of white cords of hair that hang to the ground. This is one breed that needs to be seen to be believed.
Originally bred to herd livestock, the Komondor is a natural protector and guardian of those it trusts. This breed can be quite independent and even aggressive with strangers. Komondors should be supervised around small children. Komondors are big hypoallergenic dogs—weighing up to 80 pounds and standing at almost 28 inches tall.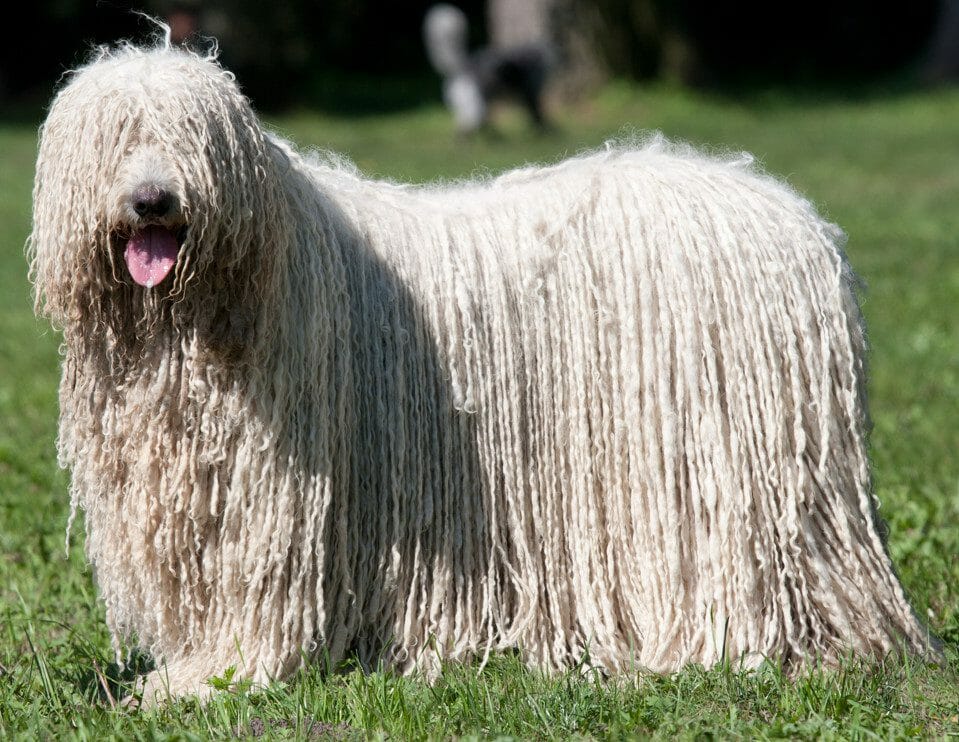 Poodle
The Poodle, another popular breed among hypoallergenic dogs, is most widely known as an award-winning show dog. Poodles are also considered one of the smartest dog breeds and are quite dynamic and good-natured. This breed is ideal for children.
Living between to be around 13 years old, the vivacious Poodle requires frequent exercise and professional grooming every month or so.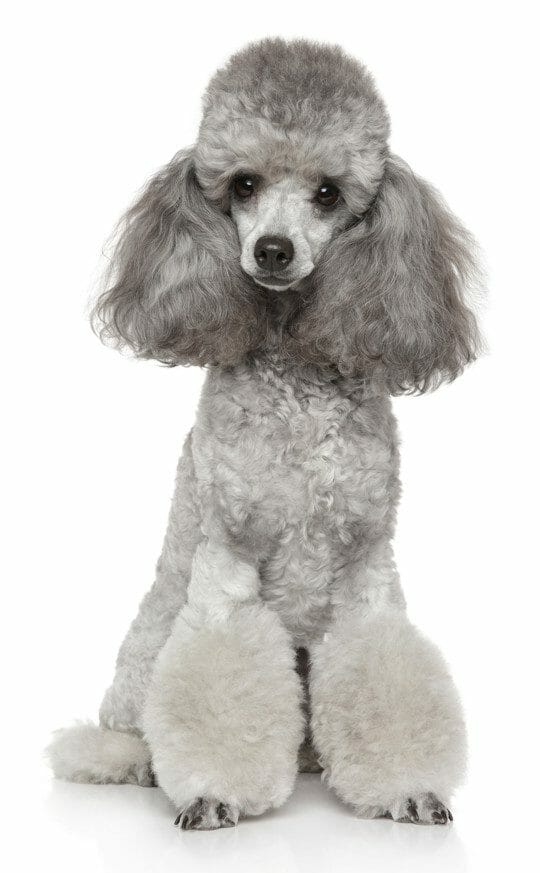 Portuguese Water Dog
The Portuguese Water Dog is a hypoallergenic dog breed that adores its family, yet moves through life with an air of sincerity and thoughtfulness. Originating in the Algarve region of Portugal, these canines were taught to herd fish into nets, retrieve lost tackle or nets, and acted as couriers between ships or from ship to shore.
Its build is full of muscle, which means Portuguese Water Dogs often weigh up to 60 pounds. Besides some possible heart problems, this dog is hardy and can live up to 14 years.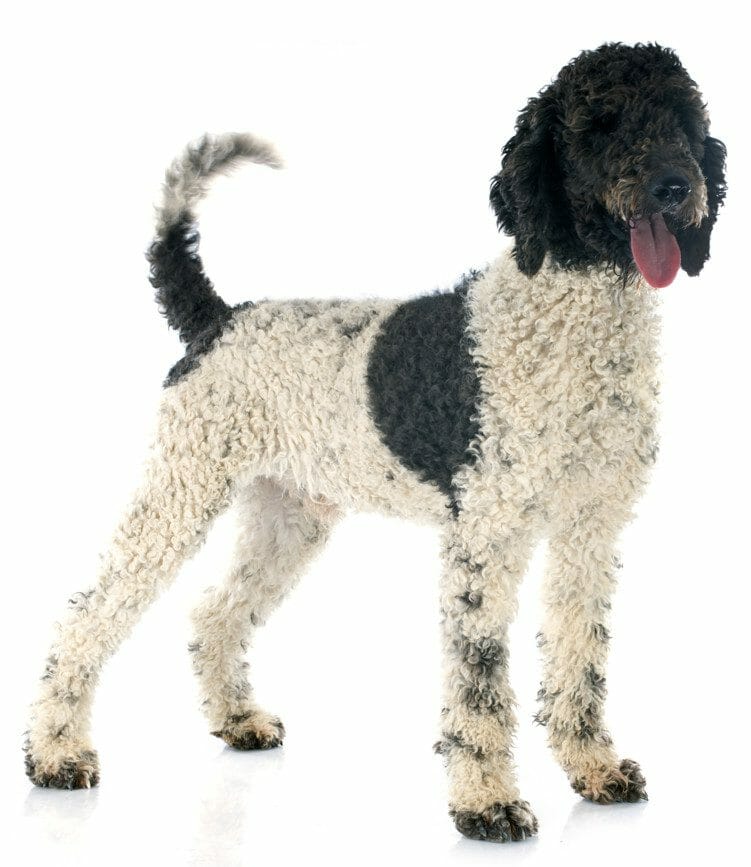 Puli
Developed in Hungary, the Puli is full of energy and ready for adventures. Although this hypoallergenic dog breed can be a bit strong-headed, they are also innately inquisitive of their surroundings.
The Puli stands at around 17 inches in height and weighs approximately 35 pounds on the higher end. Strongly resembling the Komondor, the Puli also has dark corded locks of hair that hang low.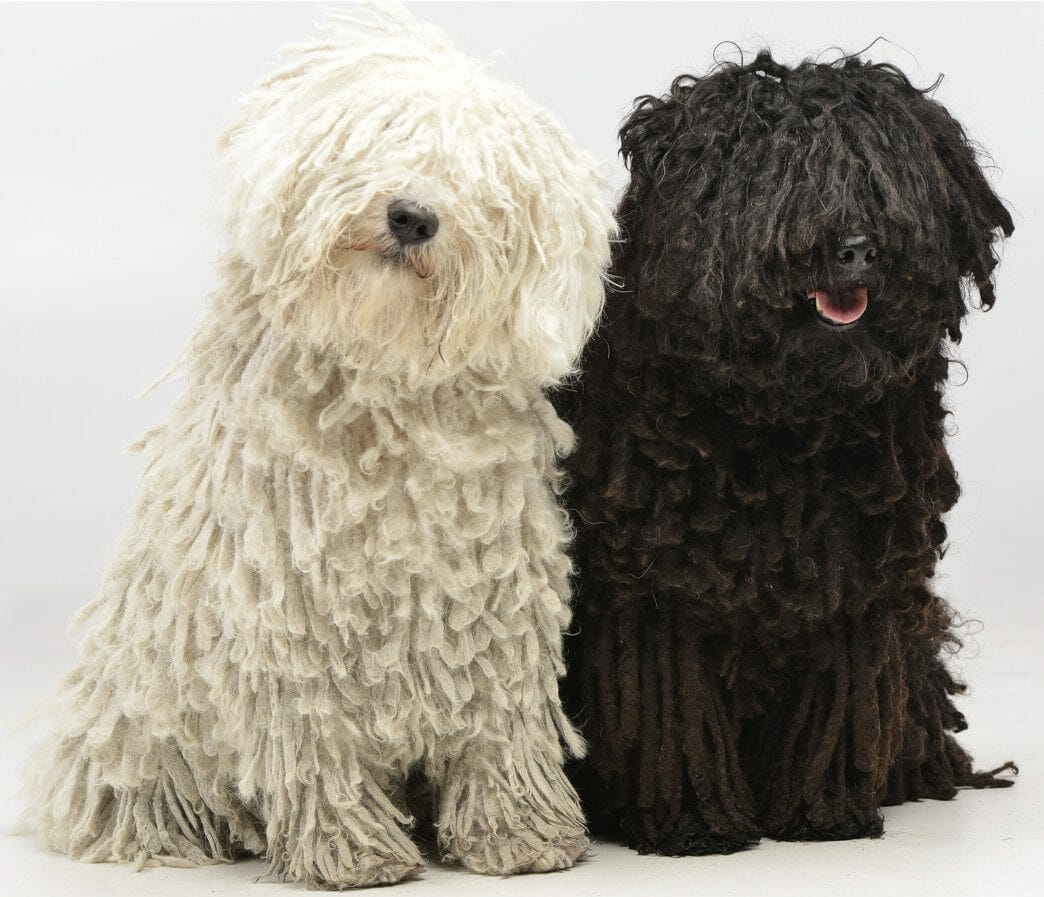 Shih Tzu
The Shih Tzu is part of the Oriental dog family. This small but sturdy hypoallergenic dog can weigh between 9 and 16 pounds and stand about 11 inches tall.
This little dog is all sass. Shih Tzus are wonderful with children and love playtime. The Shih Tzu loves to flaunt its luscious locks of straight hair. They should be brushed daily to prevent matting and tangles.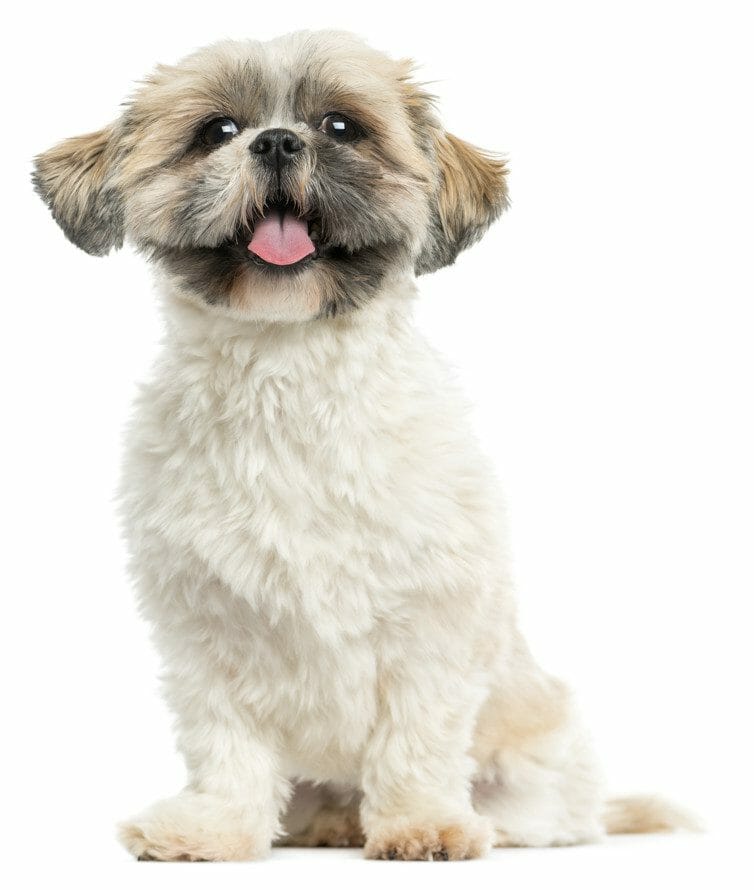 Wire Fox Terrier
Standing at almost 16 inches tall, the Wire Fox Terrier possesses a square-like body with an elongated, furry muzzle and small, bent ears. This hypoallergenic dog breed has a wiry, thick coat that needs grooming every 2 to 3 days.
In terms of temperament, the Wire Fox Terrier is spontaneous and adventurous. Because of this, daily intensive exercises that involve activities like hiking and running is beneficial. This little dog is known to be observant and alert in its countenance.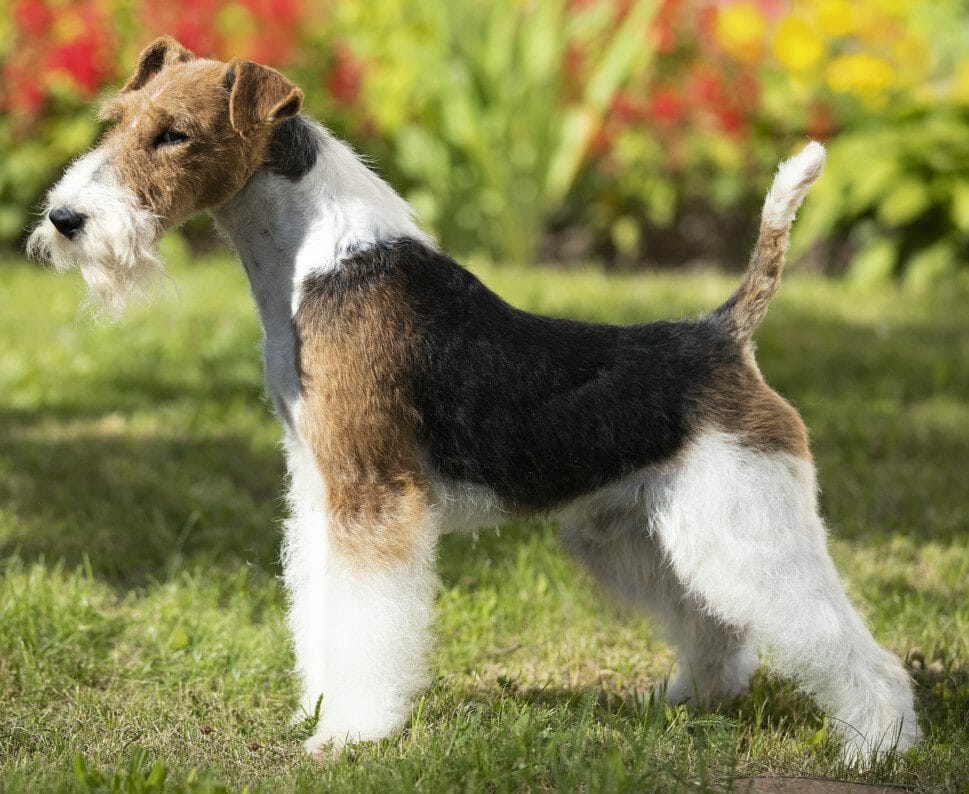 Yorkshire Terrier
Originating in England, the Yorkshire Terrier is naturally curious, which often leads to mischief-making. Despite its small size of about 7 pounds, this hypoallergenic dog can be assertive and quite confident in its ways.
Yorkies normally live long lives of 14 to 16 years and have little to no dominant health issues. Yorkshire Terriers have floor-length, shiny hair that requires weekly brushing to untangle knots.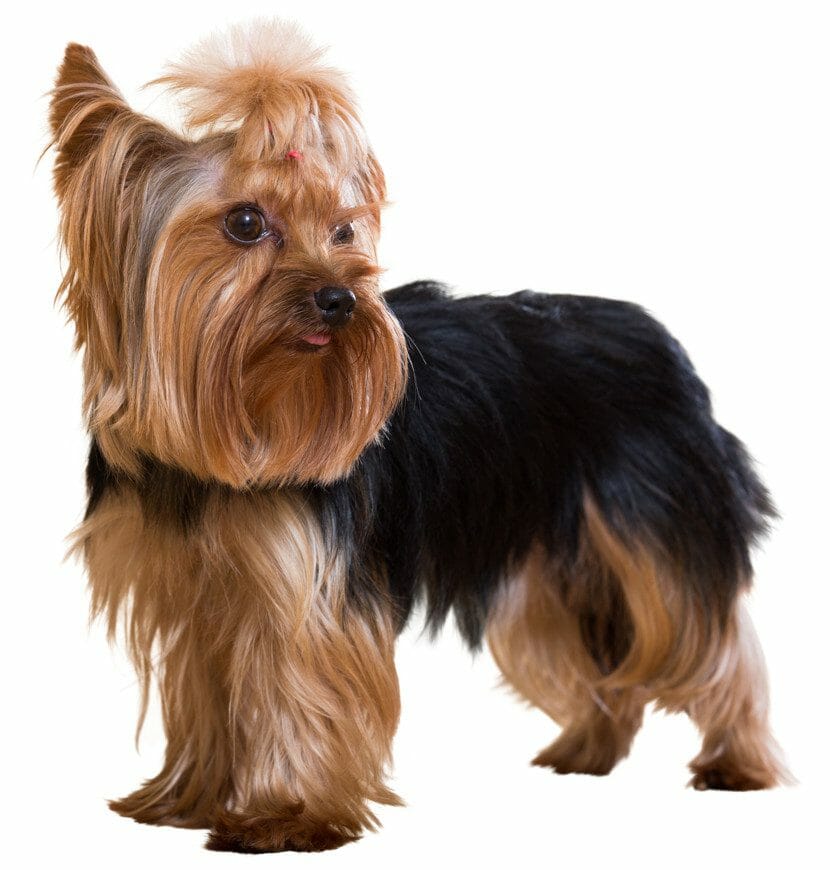 If allergies are not an issue in the household, check out the BarkWiki dog breeds for more information on a wide variety of potential canine companions.
More Information about Hypoallergenic Dogs
[child_pages thumbs="true" hide_wp_more="true" thumbs='thumbnail' link_thumbs="true" hide_excerpt="true" hide_more="true" link_titles="true"]